The Burkini is a revolutionary swimsuit that enables Muslim women to enjoy the waters without compromising modesty or comfort. It consists of a lightweight tunic and an accompanying headscarf, and comes in a range of styles and colors. Learn more about the purpose and history of the Burkini.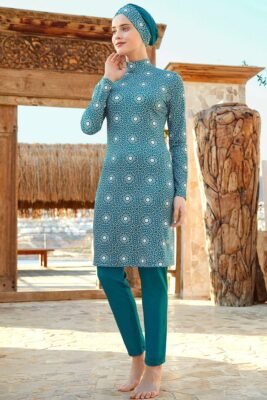 What is a Burkini?
A burkini is a two-piece swimsuit worn by Muslim women that combines the modesty and comfort of traditional Islamic clothing with the functionality of a traditional swimsuit. It consists of either a lightweight tunic with full length or threequarter length sleeves, and a headscarf that also covers the neck. The name comes from combining "burqa" (the Arabic word for "coat") and "bikini." The burkini is designed to provide a modest alternative to traditional swimwear, while still allowing women to participate in water activities.
Who Should Wear It?
The Burkini was designed to meet the modesty and comfort requirements of many Muslim women, but anyone can wear it. Whether you're a Muslim woman looking for comfortable, modest swimwear or someone who simply loves the look of the style, there are no rules preventing you from wearing a Burkini. It's a versatile piece of clothing that can be worn by people of all backgrounds and genders.
Benefits of Wearing a Burkini
The Burkini offers a lot of benefits to wearers, such as freedom of movement, sun protection, and comfort. Unlike traditional swimsuits or wetsuits, the Burkini is designed with a flexible and lightweight fabric that won't cause discomfort or restrict movement while swimming. It also features a built-in UPF50+ rating that provide effective protection against UVA and UVB rays from the sun. Plus, its modest design ensures that you look and feel your best while taking a dip!
How to Choose the Right Size and Style
When selecting your Burkini, make sure to choose a size and style that fits you best for maximum comfort and modesty. Measure your body's chest, waist and hip circumference to ensure the size is correct. Also look for styles with modest coverage such as long sleeves or high necklines to provide extra sun protection and cover up any areas you don't feel comfortable exposing. Last but not least, choose colourful patterns or designs so you can still make a fashion statement while having fun in the sun!
Tips for Styling and Accessorizing Your Burkini
When styling the Burkini, you can accessorise with a variety of items, such as floppy hats, sunglasses and fun jewellery. You can also choose hijabs in matching or contrasting colours to express your identity and enhance your overall look. There are a variety of accessories available that will add flair to any Burkini ensemble, but be sure to take into account the fabric material so that it won't get damaged when going in the water. Accessories make all the difference in bringing out your personal style in a modest and fashionable way.