Have you been looking for an easy way to keep up with the latest fashion trends while expressing your faith? Look no further than our selection of stylish, ready-to-wear instant hijabs! Shop now and find the perfect hijab that fits both your style and needs.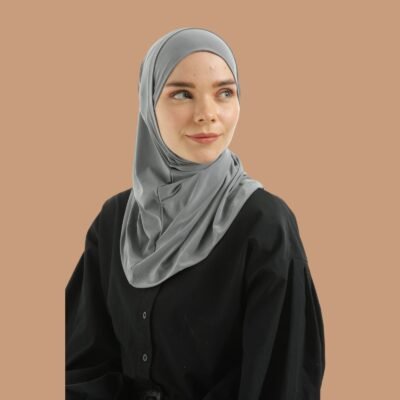 Choose from a Variety of Styles, Fit, and Colors
With our selection of high-quality, ready-to wear hijabs, you can choose from a variety of styles, fits, and colors that are perfect for any occasion. Our hijabs are designed to allow for easy styling in a range of ways; pair it with an abaya for classic elegance or opt for a more modern look with dressy trousers. We offer diverse fabric options from chiffon to jersey, so you can get the perfect fit and feel you're looking for!
Look Good On Any Occasion with A Pre-Tied Hijab
Our wholesale instant hijabs are perfect for busy days when you need to get out the door quick, but still want to look your best. With our wide selection of styles and fabrics, you'll be ready for any occasion; whether it be an important business meeting, a wedding, or just grabbing a cup of coffee with friends. The knots on the side of each hijab provide a secure fit that will stay in place throughout the day—giving you the confidence to make a lasting impression wherever you go!
Get Discount on All Orders Over 1000 KG
Shopping our selection of beautiful ready-to-wear hijabs is even more enjoyable when you get discounted shipping on all orders over 1000 KG. Plus, every hijab comes with a satisfaction guarantee—so you know you're getting the best quality products for a great value! Shop now to find the perfect hijab for your style and start looking your best without any hassle.
Expert Advice & Styling Tips on Selecting The Right Wholesale Instant Hijab For You
Taking the time to learn about the different types of hijabs and how to style them can help you find the perfect hijab for your needs! With expert advice & styling tips from our team of professional stylists, you'll be able to make quick decisions on selecting a beautiful instant hijab that looks great with any outfit. Shop now and start looking your best without worrying if you have the right hijab or not.
Find Your Perfect Fit with Our Size Chart and Returns Policy
Finding the right size and getting the perfect fit for your hijab is essential. Worry not! We provide detailed size charts so you can shop confidently. Our size charts come with all the measurements needed to get a perfect fit. Shop now with the peace of mind that you're getting nothing but perfect hijabs!