The chiffon hijab is a popular and fashionable choice for many Muslim women. It is made from lightweight, breathable fabric with a loose drape that's perfect for warmer climates. Discover how to wear a chiffon hijab, the differences between other types of hijabs, and design ideas for looking stylish and comfortable.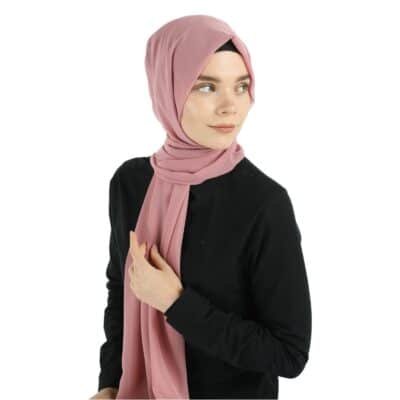 What is a Chiffon Hijab?
A chiffon hijab is a type of head covering made from sheer, delicate fabrics like silk and chiffon. It is lightweight, airy and perfect for hot, humid weather due to its breathability. This style of hijab provides coverage while still looking feminine and stylish, making it an ideal choice for everyday wear or special occasions.
Choosing the Right Fabric and Colors
Choosing the right fabric and color are important components of wearing a chiffon hijab correctly. While softer fabrics like silk and chiffon provide the most breathability, lightweight cotton and georgette hijabs make good alternatives for more casual wear. As for colors, choose shades that won't clash with your outfit for a classic monochrome ensemble. To add some extra flair, try selecting interesting prints or metallic accents.
How to Wear a Chiffon Hijab?
Wearing a chiffon hijab can be a stylish and simple addition to your outfit. To start, select the fabric, color, and style of your hijab. If you are wearing a casual outfit, choose something lightweight like a cotton or georgette crepe hijab; for more formal occasions, opt for silky fabrics and softer colors that won't clash with your ensemble. Before wearing your hijab, try some different tying techniques such as wrapping it over your head for extra coverage or using pins to secure the scarf in place. Finally, accessorize with statement earrings or bold lip colors to complete the look!
Styling Tips for Chiffon Hijabs
Personalizing your chiffon hijab can be easy and creative. To give your look a unique twist, try wearing brooches or pins centered on the forehead. A bold center piece like a pin with color or texture can give the hijab more of an overall visual impact. If you want to add extra coverage, layer a second scarf over the first scarf before tying it off at the neck or using pins to hold it in place. You can also use different wrapping techniques such as looping, tucking, or braiding for a diverse range of styles!
5 Creating Different Styles with a Chiffon hijab
With a chiffon hijab, you can create endless amounts of stylish looks. From simple and neat to voluminous and sophisticated, the possibilities are endless. Here are five tips for creating different styles with your chiffon hijab:
Try knotting or looping the material around the neck to make a stylish draped shawl or pashmina;
Tuck in one corner of the hijab at the top of your forehead to make an eye-catching half-up style;
French twist the hijab at each side of your face for a chic, swept look;
Braid the ends or tie them into a bow to add texture;
Vary your accessories like pins, brooches, and velvet scarves to accessorize any look!