Give yourself a style upgrade with our stunning Khimar Medina Silk collection! Featuring lightweight and breathable fabrics, along with timeless elegance and unmatched style, this collection is perfect for any occasion.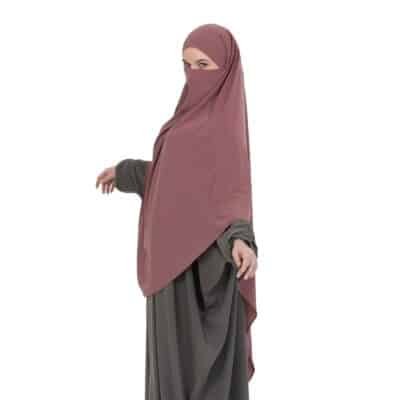 Learn about the Benefits of Khimar Medina Silk
Our Khimar Medina Silk collection is not only perfect for any occasion but also provides numerous benefits. The lightweight fabric means you'll stay cool and comfortable all day and the breathable materials mean this set will be perfect for summer days. Plus, with its classic designs, you can easily pair these pieces with a variety of other wardrobe staples to create the ultimate fashionable ensemble for a night out or any special event.
Explore Our Different Styles and Collections
Whether you're looking for something timeless and graceful or something modern and bold, our Wholesale Khimar Medina Silk collection has everything that you need. With numerous different styles and collections, you can find the perfect set to match your look and lifestyle. From captivating prints to vibrant solids, find the perfect style to suit you and always stay fashionable and comfortable.
Choose the Right Size for Maximum Comfort
When it comes to selecting the perfect khimaar, size is an essential factor. The best way to select the right size of Khimar Medina Silk is by taking your body measurements accurately and then consulting our size chart for finding the perfect fit. By choosing the right size, you can experience maximum comfort, plus you'll look amazing from every angle in this stunning collection.
Experience Unparalleled Quality and Durability
Our Khimar Medina Silk collection is crafted with top-notch materials, ensuring heightened quality and exceptional comfort. This versatile collection is also made to last and withstand the elements, so you can enjoy a timeless silhouette without feeling limited by the weather or environmental conditions. Thanks to its durable design, you can wear it for any occasion – from a casual day out to an evening of elegance or a festive event.
Create Stylish Looks with Ease and Convenience
Our Khimar Medina Silk collection allows you to create stylish looks with ease and convenience. The fabric is lightweight and breathable, making it easy to layer pieces together to create stunning outfits that fit any occasion – from a formal gathering to a casual day out. The versatility of the Khimar Medina means you can easily move between looks for whatever your day throws at you, providing maximum comfort along the way.