Looking for the perfect Wholesale Islamic gift sets to show your appreciation? Our gift sets provide a unique selection of luxurious options sure to delight and surprise your special someone. Whether you're searching for prayer sets, Quran, home décor, prayer rugs or tasbih. We have something special for everyone.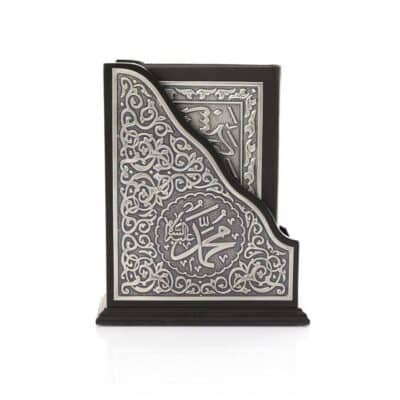 Selecting High-Quality Materials
While looking through our superb selection of Wholesale Islamic Gift Sets, you can rest assured that all materials used are of the highest quality. From exquisite Islamic art to luxurious home décor and books on spiritual topics, all of our giftsets use only the finest materials. Whether your loved one enjoys cylinder gift sets or ribbon prayer sets, they're sure to treasure something from our astounding gift sets!
Find Trendy and Practical Options
Our Islamic Gift Sets feature a vast array of trendy and practical options for any occasion that are sure to impress! Whether it's a special holiday or birthday celebration or Ramadan Eid. Explore our selection of traditional paints, intricate decor pieces and more that help transport your recipient to the spiritual realm. From thoughtfully designed qurans to luxurious sets. These precious gifts are sure to bring joy.
Choose Gifts That Represent Muslim Values
Shopping for Islamic Gift Sets is made easy with our exquisite selection. With these products, you can sell to places such as special gathering events in Islamic communities. Normal wholesalers sell the products in series, but when you buy from us, you can mix the products as you wish and choose the color you want. If you are selling Islamic products such as Hijab, Abaya, Jilbab, we strongly recommend that you keep your Gift sets in stock.
Inspire with Islamic Message Products
Our collection of Islamic message products is perfect for sharing uplifting words of faith with family and friends. Choose from beautifully designed wall art, mugs, frames and home decor items bearing inspiring messages from the Quran and Hadith. These Islamic gift sets make ideal presents for Eid, Ramadan, birthdays or any other special occasion. Spread words of love and wisdom with these beautiful pieces that your recipient will cherish forever!
Enhance Any Room with Decorative Accessories
Create an enjoyable ambience with our range of luxurious Islamic decor essentials. Enhance any room with serene scented candles, intricately crafted wooden wall art panels and stylish table accessories. Our decorative pieces make meaningful gifts that your recipient can use around the home, reminding them of Allah's grace in their life every day.