Whether you're looking for a subtle accent or a bold statement, our selection of wholesale satin hijabs is sure to have something for everyone! Featuring lightweight and breathable fabric, there's no better way to feel comfortable, beautiful, and fashionable all at the same time. Check out our collection today to find your perfect match!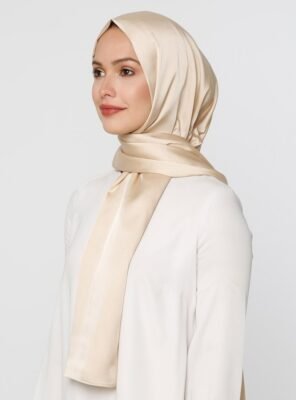 Choose the Right Size and Fit
When choosing a wholesale satin hijab, making sure to select the right size for your clients and fit is key. You don't want it to be too tight or too loose. Be sure to measure your head circumference before selecting the correct size and make sure you are confident with how it fits before making your purchase. We usually produce hijabs in 75x180cm and 75x190cm.
Know What Colors Will Suit You Best
Make sure to pick colors that not only fit the occasion, but will also suit your style. Wear colors that best complement your client skin tone and figure. Try to avoid buying hijabs in colors you don't necessarily like, as this may restrict when you can wear it in the future. So choose wisely!
Go for the Style That Speaks to You
We encourage you to pick the style of hijab that matches your desired look. Whether it's a Pashmina-style shawl for extra warmth or a lightweight and airy scarf for the summer, we have plenty of options available in many different fabrics. Try something bold, go with a pattern like floral or polka dots, or keep it simple in subtle shades. Make sure to place an order today and get ahead of the trends!
Pair Your Hijab with Appropriate Undercap
To complete your customers look, it's always a good idea to accessorize with an appropriate hijab undercap and jewelry. Not only can this make your customers outfit appear more polished, but adding the right statement necklace and stylish pins can take it look to the next level. Choose items that complement the hijab and don't overwhelm it.
Consider Comfort and Durability When Choosing a Satin Hijab Fabric Type
When selecting a wholesale hijab, consider not just the style but also the fabric type. Satin hijabs are ideal for creating a stylish and elegant look, but you want to be sure your hijab is comfortable and durable enough to last through everyday wear. Look for lightweight fabrics with a satin sheen that will create beautiful drape while still being breathable so it won't be overly warm when worn outdoors